Progress is being made this week albeit slowly, I have a fever and have been feeling very light headed these last couple of days and as a result I've not been at work, don't think I'll be going in tomorrow either but we shall see, if I do go to work it'll only be for a few hours in the afternoon as I usually go to my craft group on a Thursday morning.
I have been working on my new start and am very nearly finished (had hoped to have it done by now as it's tiny but I'm enjoying the stitching so I'm not complaining!)
Lesleyanne
correctly guessed that it was a LK monthly flip-it chart and here is how it looks now
He does look a little funny without his facial features but these should make an appearance tomorrow morning and hopefully he'll have a hat and some mittens to go with that rather festive scarf!
Snowmen seem to be my theme for this week as I'm also hoping to put some more stitches into Snowman 10, I've started to stitch the main man himself but there's so little to show that I'll leave the photos for another day.
Like much on the UK we were hit with snow on Monday but there wasn't very much and it had all melted away by lunchtime, luckily I got a few snaps of our 'sprinkling' in the morning.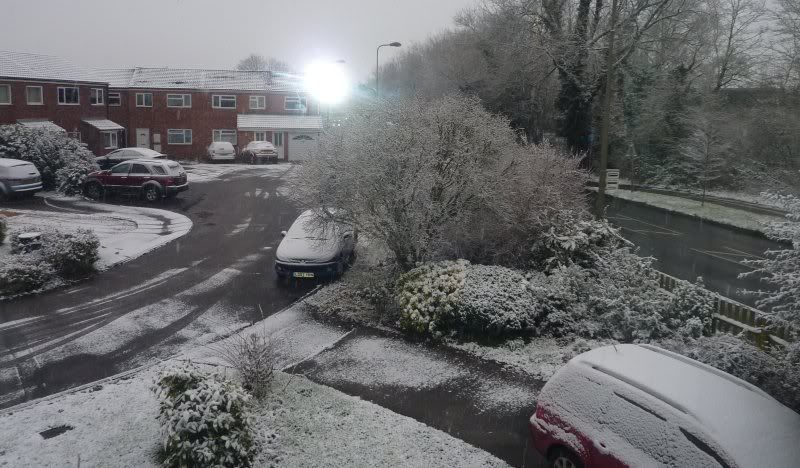 Not very much as you can see, more is forecast for Friday though so fingers crossed it'll be more that this! This weekend is International Hermit & Stitch weekend & I really want an excuse to start stitching this chart!
Till next time, Happy Stitching!!
xX Fiona Xx